Changes to Operations Due to Coronavirus and Shelter-in-Place Directives 
Medical Services and Pharmacy

:
Student Health Services will be open for telephone calls and telehealth services: Monday - Friday 9:15am-12noon and 1-4:15pm.
In person medical visits: Monday - Friday 1-4:15pm for acute problems only.
Pharmacy, Xray, and Lab services will be open 1-4:15 pm. 
Please call 707-826-3146 with any questions.
Counseling and Psychological Services:
CAPS is providing teletherapy by Zoom and Phone: Monday-Friday from 9 am - 5 pm. 
To schedule an appointment or make an inquiry call 707.826.3236 or email hsucaps@humboldt.edu. 
A warm welcome from our team!
Student Health and Wellbeing Services (SHWS) are a team of dedicated professionals that want to help you succeed in your personal and academic paths at Humboldt State University by supporting your general health and wellbeing.  SHWS consists of Medical Services, Counseling and Psychological Services, and Health Education.
Student Medical Services and Counseling and Psychological Services (CAPS) at HSU are fully-accredited, including a medical clinic with lab, pharmacy, x-ray services, and a team of mental health professionals. Our licensed medical professionals include physicians, nurse practitioners, registered nurses, medical assistants, clinical laboratory scientists and a radiological technologist.  Our professional mental health providers include licensed psychologists and marriage and family therapists, as well as therapists fulfilling professional training at our site (e.g., postgraduate residents and practicum trainees).  Our front office staff is welcoming, knowledgeable and always happy to assist you with health records, appointment scheduling and any other questions.  Please get to know our team of professionals in our medical and counseling units.   In our Recreation & Wellness facility, our Health Education team and the Peer Health Educators focus on health-promoting fun activities for students. Counseling and Psychological Services (CAPS), located in Student Health and Counseling (SHC) Building, as well as at BSS 208, offers confidential services for short-term mental health issues. Together, our Student Health and Wellbeing Services team is dedicated to helping you overcome health barriers to academic success.
Statement Regarding the Current Political Climate:
Intersecting oppressive forces such as racism, sexism, ableism, homophobia, among others have long been present in American society, however we are seeing a troubling focus currently on these issues by people in the most powerful positions in our country. This rhetoric can have an adverse effect on all people, however we specifically recognize that members of our campus community from traditionally marginalized and/or oppressed identities may be experiencing unique and specific concerns related to our national and local political landscape. It is necessary for our office to state our commitment to social and environmental justice and to creating a world without systemic injustice and violence. We are dedicated to creating an environment where those who have experienced marginalization can feel validated, seen and heard, and belong. The Staff of Health & Wellbeing Services -- including our medical staff, counseling and psychological services team (CAPS), and professional and peer health educators are all dedicated to providing support to all students, regardless of race, ethnicity, size, gender expression, ability, religion, or nationality. We encourage our community to engage in active reflection to identify the ways in which you may (even unconsciously) be contributing to the marginalization of others and to engage in active anti-oppression action that will challenge and change our community. 
In order to better serve ALL our students we have built a FAQ for DACA students and undocumented students who might have questions about how to access our resources. It can be found here.
Our Health and Wellbeing Staff!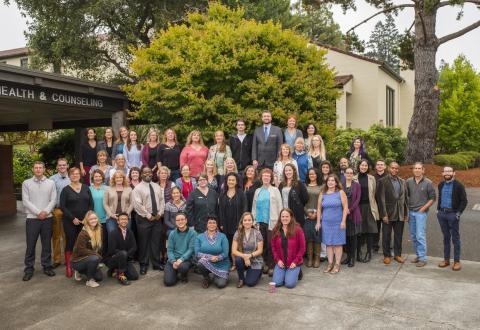 Finding us
SHC is located just up the hill from the HSU Library off Plaza Circle, and hours of operation can be found on the Medical and CAPS websites.  Please note that CAPS also has a second location at BSS 208. Should you require medical assistance outside these hours, there is free access to an after-hours nursing advice hotline (877) 256-3534.  Should you require psychological assistance outside of open hours, you can call the CAPS main line at (707) 826-3236 to speak with a counselor by phone.  See our websites for contact information and maps to other medical facilities and psychological resources in our community.
Accessing our services
The SHC is mainly funded by the required Health Services fee, paid as part of the tuition, and billed directly to student accounts. SHC services are provided to regularly enrolled and IELE students.  For a small fee, CAPS will also provide couples therapy for the non-student partner of a student when the two are in therapy together. Though most of our medical services at SHC are free, there are some services and supplies that may require a small fee.  A few examples of these are immunizations, TB skin tests, prescription and over-the-counter medicines, x-rays, laboratory work, and splints / braces. The medical services fee schedule is available here.
HSU is located in Humboldt County, a rural, medically-underserved area. Primary Care Providers (our providers may not be designated as PCPs – this role must be filled by the physician designated by your insurance plan), as well as some medical specialists, are in short supply. It is very important that you and your family research available medical options, including psychiatry, before coming to HSU so you may be sure your needs are met. It is also important to note that, because of our high volume of patient visits, we cannot provide care for long-term issues, such as diabetes, high blood pressure, chronic health (including psychiatric) problems or treatment for Adult Attention Deficit Disorder, nor can we qualify students for permanent disability.
Our Health and Wellbeing Services team have a lot to offer. Please familiarize yourself with our websites and call if you have questions. We look forward to working with you!