Health Insurance/Family PACT
Humboldt does not require nor sell insurance and the Student Health Center does not bill insurance. Basic office visits are free. Augmented services/supplies at our facility are charged to your student account. 
It is important, however, for students to have insurance coverage for emergency and specialty care services. Paying the Humboldt Health Services fee when you pay your tuition is NOT a substitute for signing up for insurance.
Student Health Insurance/Affordable Care Act (ACA)
Many CSU students and their families may be eligible for financial assistance in purchasing health insurance. In California, the exchange for health insurance is called Covered California, an online marketplace for affordable health insurance. Individuals and families may qualify for financial assistance in paying the costs of health insurance coverage. More information about the Affordable Care Act.
Students can Apply, year round, for Medi-Cal coverage in the Oh SNAP Food Pantry. For more information about that process. 
If you have insurance, services such as immunizations, physical therapy, lab work and x-rays, may be provided at no cost by your Primary Care Provider.  Whenever possible, the health center recommends you see your Primary Care Provider to utilize your insurance benefits.
Please Note:
Medi-Cal services are county-specific and switching counties can take up to 30 days. Consider switching counties before you move to Humboldt.
To switch counties you can call the Eureka Department of Health and Human Services Call Center: 877-410-8809. Please note that hold times can be long
Student Health Center doctors and nurse practitioners cannot be listed as your "Primary Care Provider."
Family PACT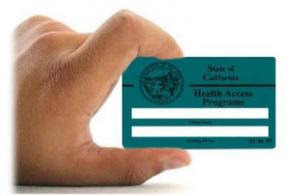 The Student Health Center provides Family PACT reproductive health services. This state program provides confidential services for contraception, sexually transmitted infections, well-woman exams, urinary tract infections, some labs and immunizations. All Family PACT services are available at no cost to you while you are enrolled. Eligible students may sign up at the Student Health Center.  Note: if you are signed up for the Affordable Care Act, you are NOT eligible for Family PACT. Already a Family PACT member? Check your Health Access Program (HAP) card's expiration date. Annual re-enrollment is required to keep your program benefits.
For more information, contact the Student Health Center (826-3146).
Please review the eligibility screening. If you feel you qualify, please fill out the client eligibility certificate and bring it with you to the Health Center. The receptionist will validate if you're eligible and enroll you in the program, at which time we will issue you the Family Pact Health Identification Card.
To find out if your FPACT card needs to be renewed, call 800-541-5555 (press 1 then 2)
The following information will show when someone clicks above on More information about the Affordable Care Act (link to information below highlighted in green)
Student Health Insurance/Affordable Care Act (ACA)
To determine eligibility and to sign up, go to Covered CA:
www.coveredca.com
Covered CA brochure
More helpful websites and handouts to learn about ACA:
www.calstate.edu/coveredca/about
NPR: "You Ask, We Answer: More Of Your Questions About The Affordable Care Act"
www.healthcare.gov
health.younginvincibles.org
"Questions and Answers about the Affordable Care Act" (from Prescriber's Letter, September 2013)
"You Ask, We Answer: More of Your Questions About the Affordable Care Act" (NPR Podcast from 8-19-13, PDF transcript)
Who should be looking to buy insurance on the ACA exchanges (Covered CA)?
Those who don't have insurance now and those who currently purchase their own insurance (meaning they don't get it through an employer).
How will the exchange work?
You do it all online. Each state has its own website (California = Covered California). You go to the website (www.coveredca.com), provide some basic information (like where you live and how old you are) and you'll get a list of plans available in your area.
What if I need help going through the process?
Call the Covered CA line (800-300-1506). There are trained people there called assisters and navigators who can walk you through the process.
What kind of benefits will I get?
outpatient care
emergency services
hospital care
mental health and substance abuse care
rehabilitation
lab work
prescription medicines
wellness services
pediatric care
maternity and newborn care
Plans will also give you some services that PREVENT illness for free. You will not be charged a co-pay or deductible for these. Birth control that requires a prescription will also be available for free. Here are some of the free services:
blood pressure screening
cholesterol screening
colo-rectal cancer screening
depression screening
diabetes screening
diet counseling
HIV screening
vaccines for adults
tobacco use screening
mammograms for women
cervical cancer screening for women
osteoporosis screening for women


Do I really need it?
If you already have health insurance, such as through your job, you may not need to sign up. But you must have a certain amount of health insurance - otherwise you risk being fined. This fine will get bigger over the next few years.
What will my options be?
You will be able to pick from plans that have different premiums, co-pays, deductibles, and coverage. Different plans will work with different providers. Make sure your provider is "in network" if you want to keep seeing him/her. Also, check the plan to make sure your medicines will be covered.
How do I sign up?
You may also go to www.healthcare.gov to learn about plans in your area - you may also call 800-318-2596. These resources can also help you find out if you can get financial help with your plan or perhaps a tax credit.
What else can I do to decrease costs?
You may get lower costs if you don't smoke and if you try to keep a healthy weight.
Can I be turned down by a plan?
You can't be turned away or charged more because of a condition you already have. You can't be charged more for a plan if you're a woman. There are no lifetime or yearly spending limits on your care.
Are you on your parents' plan and under 26?
You may not need to sign up. Talk with your parents about health insurance options.
What information will I need to sign up on the website?
Be ready with your social security number, income information and policy numbers of health insurance plans currently covering your family members. The sooner you sign up, the sooner your coverage will begin.
What is the Affordable Care Act (ACA)?
The Affordable Care Act, also known as the health care law, was created to expand access to affordable health care coverage to all Americans, lower costs, and improve quality and care coordination.
What's the Health Insurance Marketplace?
The Marketplace is a new way to shop for and purchase private health insurance (for example, health coverage other than VA health care programs) that fits your budget and meets your needs. People who purchase insurance through the Marketplace may be able to lower the costs of health insurance coverage by paying lower monthly premiums. (www.healthcare.gov)
What happens if I do not have health coverage?
You do not have to make a payment if you have coverage that meets a minimum standard (called "minimum essential coverage"). If you have access to affordable coverage but remain uninsured starting in 2014, you may have to make payment when filing your taxes. This payment will either be a flat fee or a percentage of your taxable household income, depending on which amount is higher. This payment will be phased-in according to the schedule below:
$95 or 1% of your taxable income in 2014
$325 or 2% of your taxable income in 2015
$695 or 2.5% of your taxable income in 2016
Exemptions from the payment will be granted under certain circumstances. For more information on these exemptions, visit www.healthcare.gov.
If I'm enrolled in a VA health care program, do I meet the requirement for health care coverage?
Yes. If you are enrolled in any of VA's programs below, you have coverage under the standards of the health care law:
Veteran's health care program
Civilian Health and Medical program (CHAMPVA)
Spina bifida health care program


Where can I get more information about veterans and the ACA?
Visit the VA's website at www.va.gov/aca or call 1-877-222-VETS (8387) M-F 8:30am to 10pm, or Sat 11am-3pm EST. For information on the Marketplace, visit www.healthcare.gov.
[from "Questions and Answers About the Affordable Care Act" (Prescriber's Letter, September 2013; and from "VA Health Care and the Affordable Care Act: Frequently Asked Questions" (June 2013)]