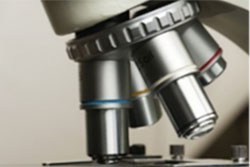 The Student Health Center laboratory offers a range of services.
Our on-site testing includes complete blood count, urinalysis, pregnancy, rapid strep, and infectious mononucleosis tests. In addition, we send certain tests to a reference lab. There is a nominal charge for some tests, while others are covered by the student services fee.
Cal Poly Humboldt's Medical Lab consistently meets all the criteria for Laboratory Accreditation by COLA Inc., a leading national laboratory accreditor, whose program and standards enable clinical laboratories and staff to meet United States Clinical Laboratory Improvement Act (CLIA) and other regultory requirements.  Through a mentoring approach using education to improve quality and patient safety, accreditation is given to laboratories that apply the highest standards of quality in day-to-day operations, demonstrate continued accuracy in the performance of proficiency testing, and pass a rigourous on-site laboratory survey.  The laboratory at SHWS has recently earned COLA Inc. reaccreditation to provide quality service to our patients.

Lab Hours
The lab is open during Student Health Center hours (though closed from noon to 1 p.m.).

Frequently Asked Questions about Laboratory Services
How long do lab results take?
Most results return within a week.
How will I get my lab results?
The lab does not give out results.  You can only get your results from a provider.  In most cases, "no news is good news," however, you and your provider can discuss this at the time the lab was ordered. The Secure Portal as a useful way of obtaining lab results from Providers.