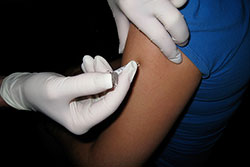 The Student Health Center offers a variety of immunizations for travel and to help prevent diseases which might interfere with your academic program or impact your overall health. 
Travel Consult Instructions
Locate and make copies of all of your past immunizations.
Check records to see if you are up to date on routine immunizations such as flu, tetanus, measles described at https://wwwnc.cdc.gov/ travel/page/routine-vaccines
If you are not up to date on routine immunizations, arrange to get these vaccines at your regular health care provider, pharmacy or the Student health Center. You can make an appointment with a registered nurse for these vaccines at the student health center for a fee.
Download and read CDC information for your destination at https://wwwnc.cdc.gov/travel
Download and read Travel Tips, Food and Water Safety, Bug bites etc at https://wwwnc.cdc.gov/travel/page/food-water-safety
Complete travel history form.
Turn in travel history form with your immunization records and printed CDC recommendations at the student health center front desk and an RN will contact you to schedule a consultation.
A twenty-five dollar charge will be billed to your student account for your consultation and additional fees will be charged for immunizations and medications prescribed.
 For required immunizations for college Immunizations/Avoid a Hold on Your Registration
Vaccines available at the Student Health Center:
More details about "meningitis vaccines"
Meningitis vaccines current status (9/15)
Meningitis is an infection of the membranes and fluid which surround the brain and spinal cord.
Meningitis can be fatal.
Various organisms can cause meningitis, including several bacteria (treated with antibiotics) and viruses, occasionally other organisms.
A family of bacteria called meningococcus is especially severe, and famously can cause outbreaks of disease in young adults living in close quarters, such as residence halls, barracks, prisons, etc.
In the past, most outbreaks were caused by Type A or E meningococcus.
Menactra, which protects against meningococcus A and C, is available and is recommended by infectious disease experts for prevention of meningococcus in college students entering residence halls.
In the last few years, however, outbreaks of meningococcal meningitis on college campuses have been due to Type B meningococcus, which is not contained in the Menactra vaccine.
Two new vaccines which do offer meningococcus B protection have recently been approved for use, although recommendations do not yet exist that they be routinely given to college students.
At HSU, we offer the meningitis B vaccine, Bexsero, on an individual basis.
We can order one dose at a time for students interested in getting it (it's a series of two shots a month apart), though it is expensive ($120/shot). Let us know if you want to get Bexsero, with or without Menactra.
Typhoid: Recommended for students traveling to foreign countries. Please request an appointment by calling (707) 826-3146. Additional charge may be applied;
Some vaccines may be available for individual ordering, such as Meningococcus B or Rabies. Please inquire at the Health Center.
Tuberculosis (TB) testing at the Student Health Center:
If you are an HSU student who is required to have a TB test as part of your employment or program, or otherwise suspect that you need testing, we can accommodate you if you come in during designated "TB testing" hours (on our website and posted on the Health Center front door). Testing for TB exposure can be done in one of two ways, depending on availability, cost and other factors: by TB Skin Test (TBST), or by a blood test known as an IGRA test (one form of IGRA is known as "Quantiferon Gold"). The TBST is the cheapest and best known, though not the most accurate. When a TBST is performed, a small amount of liquid containing bits of the TB germ is injected just under the skin; the person being tested then returns to have the test "read" 48 to 72 hours later. At the Student Health Center, your Student financial account will be charged $10 for the TB Skin Test. The "Quantiferon Gold" blood test can be ordered by a provider at the Student Health Center, but you would need to go to one of the local hospitals to have the test performed. If you're not sure which test you need, come in and discuss it with our staff.
 Tuberculosis (TB) is a bacterial infection affecting the lungs (and sometimes other organs). In its active form, it is extremely contagious, and is one of the biggest ongoing killers of human beings in the world. In some countries known as endemic areas, including much of the underdeveloped world, many people are infected or at high risk for becoming infected. In the United States, people in some occupations or other settings are at high risk for exposure and infection with tuberculosis, and US citizens can become exposed while traveling in endemic areas. While most cases of tuberculosis are treatable with certain antibiotics, in some parts of the world the germ is becoming resistant to all current antibiotics, making it more important than ever for the disease to be prevented and/or detected at an early stage when it is most treatable. For more information: http://www.cdc.gov/tb/
 Price list for SHC vaccinations
The Public Health Department of Humboldt County, Eureka
Phone: 707-268-2108

NEW! The Public Health Department of Humboldt County is now providing low cost immunizations for adults that are either uninsured or underinsured with their VFA program (vaccines for adults). Potential recipients are required to fill out a screening form to assess eligibility. Under the VFA program the following vaccines are available for $17 per dose (verify updated cost yourself): HPV, MMR, Tdap, and Varicella.
For adults with MediCal or Partnership Health in Humboldt County, Public Health will now bill their insurance (they don't bill any other kind of insurance).
Immunization hours Public Health Department: Mon, Wed & Fri by appointment only.
CVS 
Call for current prices - insurance may reduce your cost to free or less than $40 and is located at: 
600 F St, Arcata, CA 95521
Phone 707-822-2479
Directions to CVS Arcata.


Rite Aid 
Call for current prices - insurance may reduce your cost to free or less than $40 and is located at: 
1500 Anna Sparks Way d, McKinleyville, CA 95519
Immunization Hours (During our academic year)
Immunizations
Tuesday & Wednesday 10:00-12:00pm & 1:00-3:00pm
Tuberculosis Testing (TB)
Tuesday & Wednesday  10:00-12:00pm & 1:00-3:00pm
If you have insurance you may be able to get recommended vaccinations through retail pharmacies at no cost. If done at the Student Health Center, you will be charged a fee as we do not bill insurance.
Local Community